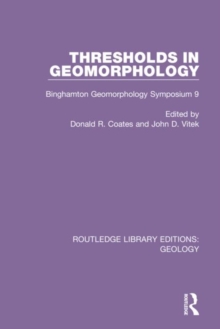 Thresholds in geomorphology : Binghamton Geomorphology Symposium 9
0367464276 / 9780367464271
Usually dispatched within 4 weeks
Reprint. Originally published: London: Allen & Unwin, 1980.
This book, first published in 1980, is a timely and comprehensive appraisal of thresholds in geomorphology.
The papers, arising from the 9th Binghamton Geomorphology Symposium, form the cornerstone of a subject that is increasingly important in geomorphology.
This book analyses the historical background to thresholds and geomorphology, as well as fluvial landforms, hydrogeologic regimes and other processes, and the impact of man.
BIC: