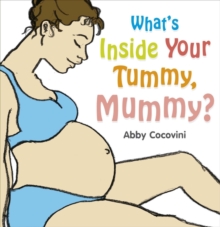 What's inside your tummy, mummy?
1862303606 / 9781862303607
30 cm 20 p. : chiefly col. ill.
The perfect book for introducing a young child to to the concept of where babies come from and how they grow.
This is a great book to share and discuss all the changes going on inside 'mummy's tummy'.
Every month a new picture shows how big baby is and how far along a timeline (featured at the foot of each spread) baby has moved.
The real attractiion of the book is the 'life-size' nature of the drawings, giving mother and child a fantastic opportunity to really explore what is happening, how big baby is in context to everyday objects and what baby can hear or indeed eats!
The flexible paperback binding allows for the book to folded gently across a growing tummy, helping to show a young child where the new baby is.
The final spread uses a giant fold down flap to reveal the fully grown baby ready to be born and greet the world.
A simple glossary is provided with explanations of the main terms used in the book.
A great book to help in the preparation for a new addition to a family.
BIC: