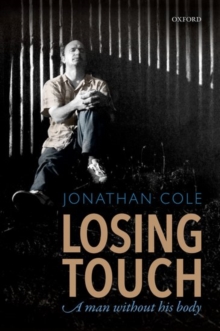 Losing touch : a man without his body
0198778872 / 9780198778875
What is like to live without touch or movement/position sense (proprioception)?
The only way to understand the importance of these senses, so familiar we cannot imagine their absence, is to ask someone in that position.
Ian Waterman lost them below the neck over forty years ago, though pain and temperature perception and his peripheral movement nerves were unaffected.
Without proprioceptive feedback and touch the movement brain was disabled.
Completely unable tomove, he felt disembodied and frightened.
Then, slowly, he taught himself to dress, eat and walk by thinking about each movement and with visual supervision.
In Losing Touch, the narrative moves between biography and scientific research, theatre, documentary and zero gravity.
He has been married three times, and built up successful careers in disability access audit, using his impairment to his advantage, and in rare turkey breeding and journalism.
The neuroscience has led to data on movement without feedback, the pleasantness of touch, gesture, pain and body orientation in space.
The account shows how the science was actually done but also revealsIan's journey from passive subject to informed critic of science and scientists and that the science has given him both more understanding but also greater confidence personally.
His unique response to such a rare condition has also led to a BBC documentary, theatrical portrayals and a weightlessflight with NASA. As a young man he sought triumph over his impairment; now, nearly 65, he has more mature reflections on living with such an extraordinary loss, the limits it has imposed and the opportunities it has enabled.
He gives his views on scientists and on others he has met including Oliver Sacks and Peter Brook.
In an Afterword those from science, the arts and philosophy give an appreciation of his contribution.
The book is the result of nearly 30 years close collaboration between author and subject.
BIC:
HPM Philosophy of mind, MJN Neurology & clinical neurophysiology, PDZ Popular science, PSAN Neurosciences