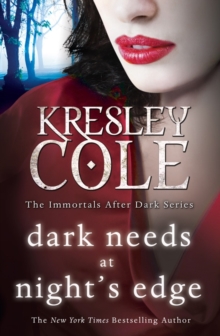 Dark needs at night's edge
1849834156 / 9781849834155
Usually dispatched within 2 weeks
Originally published: New York: Pocket, 2008.
On the night lovely Neomi Renate, a famous ballerina at the turn of the century, was murdered, an evil force turned her into a spectre - a phantom that's neither alive nor dead - and cursed her to relive her harrowing death every month during the full moon.
Unable to leave her home, she has managed to scare away any trespassers, until she encounters an inhabitant even more terrifying than Neomi herself.
When Conrad Wroth, a vampire warlord who's been half-mad for centuries, first beholds Neomi, he knows nothing will stop him from claiming the ethereal beauty as his own - not even death itself.
Yet even if the gruff warrior can win her love and defeat the evil that surrounds her, he still must determine a way to bring her fully back to life, and back to him.
BIC: