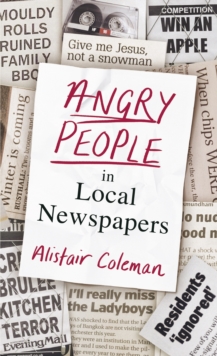 Angry people in local newspapers
0241356628 / 9780241356623
21 cm 188 pages : illustrations (black and white)
'A charming collection of stories that reminds you life could be so much worse' - Sunday Times, Best Stocking Fillers of 2018The ultimate toilet book' - Observer___________ The news can be overwhelming, with reports on post-Brexit food shortages, the underfunded NHS, and international trade wars, but local news is filled with many other serious headlines . . . Naked gardener puts neighbour off sausagesSports coach irate because KFC staff 'didn't cook him chicken'Fury after Morrisons wouldn't sell couple meat pies before 9amHouse fire started by squirrel disrupts funeralPeople across the UK are suffering the horrors of naked neighbours, large potholes, and parking fines.
Packed with the best that regional journalism can offer, there are chapters on antisocial behaviour, transport hell and fast-food nightmares.
Local issues may not be worthy of national headlines, but they certainly make people very, very angry . . .
BIC:
DNJ Reportage & collected journalism, WHX Humour collections & anthologies