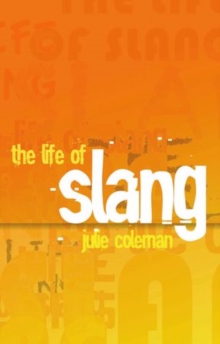 The life of slang
0199679177 / 9780199679171
Stock expected by 20/11/2019
22 cm 374 pages : illustrations (black and white)
Reprint. Originally published: 2012.
Bad-ass, bee's knees, and bomb-diffity - slang rulesTeachers, politicians, broadcasters, and parents complain of the slang-infested language of today's teenagers.
But slang has been around for centuries, always troubling those who take a purist line on the English language.
In this entertaining book, Julie Coleman traces the development of slang across the English-speaking world and explores why and how it flourishes.
She makes use of a marvellous array of sources, including newly available online records of the Old Bailey, machine-searchablehistorical newspaper collections, slang users themselves, scholarly works, and the latest tweets.
It is a book guaranteed to teach you some new words that you shold never use in polite company.
BIC:
CF linguistics, CFF Historical & comparative linguistics, DS Literature: history & criticism