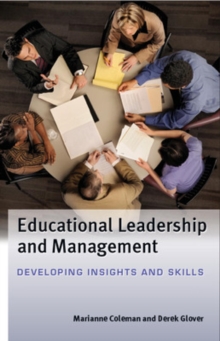 Educational leadership and management : developing insights and skills
0335236081 / 9780335236084
Usually dispatched within 4 weeks
This accessible book demonstrates the insights and skills needed by leaders in education in an increasingly diverse society.
It integrates theory with practice by presenting a real life scenario in each chapter.
Drawing on literature and examples from both the UK and international sources, it takes a stance on equity, and offers a fresh look at what it means to be a leader in education today.
Key features:Theory and practice are brought together in a clear and accessible wayIt promotes an ethical stance based on values of social justice and equityStrong focus on cultural diversityThe authors draw on their own extensive research to provide authentic and informed viewsThe authors encourage reflective practice, particularly where leaders are faced with difficult situations where there may not be a 'right' answer.
Each case study brings alive the theory and invites the reader to consider how they would apply it to their own practice.
The book will be of interest to both practitioners and students of educational leadership and management.
BIC: