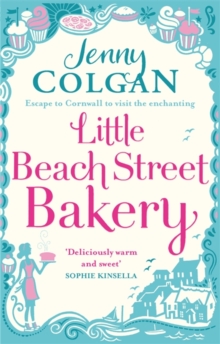 Little Beach Street bakery
0751549215 / 9780751549218
Don't miss Jenny's gorgeous new novel - FIVE HUNDRED MILES FROM YOU is out now 'A sheer delight from start to finish' Sophie Kinsella ___________________________________In a quaint seaside resort, a charming bakery holds the key to another world . . . With recipes for you to try yourself at home Curl up and escape with Jenny Colgan 'An evocative, sweet treat' Jojo Moyes 'Gorgeous, glorious, uplifting' Marian Keyes 'Irresistible' Jill Mansell 'Just lovely' Katie Fforde 'Naturally funny, warm-hearted' Lisa Jewell 'A gobble-it-all-up-in-one-sitting kind of book' Mike Gayle ___________________________________Polly Waterford is recovering from a toxic relationship.
Unable to afford their flat, she has to move miles away from everyone, to a sleepy little seaside resort in Cornwall, where she lives alone above an abandoned shop. And so Polly takes out her frustrations on her favourite hobby: making bread.
But what was previously a weekend diversion suddenly becomes far more important as she pours her emotions into kneading and pounding the dough, and each loaf becomes better and better.
With nuts and seeds, olives and chorizo, with local honey (courtesy of local bee keeper, Huckle), and with reserves of determination and creativity Polly never knew she had, she bakes and bakes and bakes . . . And people start to hear about it. Sometimes, bread really is life . . . And Polly is about to reclaim hers. ___________________________________ Why readers ADORE Jenny Colgan 'Jenny Colgan has a way of writing that makes me melt inside' 'Her books are so good I want to start over as soon as I have finished' 'There's something so engaging about her characters and plots' 'Her books are like a big, warm blanket' 'Her stories are just so fabulous' 'She brings her settings and characters so vividly to life' 'The woman is just magic'
BIC: