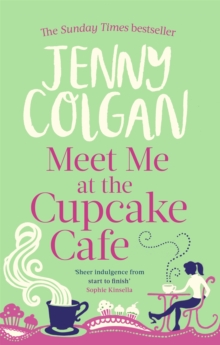 Meet me at the Cupcake Cafâe
0751544493 / 9780751544497
Escape with Jenny Colgan in 2021. The paperback of Jenny's latest bestseller, FIVE HUNDRED MILES FROM YOU, and her new feel-good novel, SUNRISE BY THE SEA, are both available for pre-order now. 'A sheer delight from start to finish' Sophie Kinsella Come and meet Issy Randall, proud owner of The Cupcake Cafe . . . 'An evocative, sweet treat' Jojo Moyes 'Gorgeous, glorious, uplifting' Marian Keyes 'Irresistible' Jill Mansell 'Just lovely' Katie Fforde 'Naturally funny, warm-hearted' Lisa Jewell 'A gobble-it-all-up-in-one-sitting kind of book' Mike Gayle ___________________________________Issy Randall can bake.
No, more than that - Issy can create stunning, mouth-wateringly divine cakes.
After a childhood spent in her beloved Grampa Joe's bakery, she has undoubtedly inherited his talent. When she's made redundant from her safe but dull City job, Issy decides to seize the moment.
Armed with recipes from Grampa, and with her best friends and local bank manager fighting her corner, The Cupcake Cafe opens its doors.
But Issy has absolutely no idea what she's let herself in for.
It will take all her courage - and confectionery - to avert disaster . . . ___________________________________ Why readers ADORE Jenny Colgan 'Jenny Colgan has a way of writing that makes me melt inside' 'Her books are so good I want to start over as soon as I have finished' 'There's something so engaging about her characters and plots' 'Her books are like a big, warm blanket' 'Her stories are just so fabulous' 'She brings her settings and characters so vividly to life' 'The woman is just magic'
BIC: