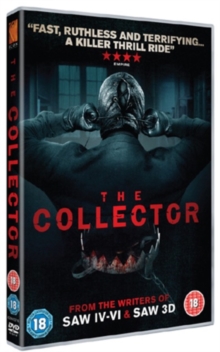 (18) Suitable for 18 years and over.
Another addition to the 'torture porn' horror genre penned by Patrick Melton and Marcus Dunstan, the writing team behind the 'Saw' horror franchise.
Josh Stewart stars as Arkin, a down-on-his-luck handyman who, desperate to pay off a debt to his ex-wife, plans to rob the safe at the country mansion home of his employer, a famous jeweller.
Unfortunately for him, the property has already been rigged with a series of lethal booby traps by a second criminal: the silent, masked serial killer known only as 'The Collector' (Juan Fernandez), who likes to keep his terror-stricken, eviscerated victims alive for as long as possible while he inflicts his ever more inventive forms of torture upon them.
Commentary: Marcus Dunstan
Bonus Tracks: Nico Vega - 'Beast'