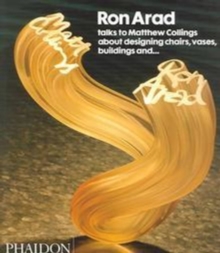 Ron Arad talks to Matthew Collings
0714843105 / 9780714843100
Stock expected by 12/04/2020
25 cm 246 p. : ill. (chiefly col.)
general Learn More
research & professional
academic/professional/technical
Ron Arad is one of the most successful and creative contemporary designers.
He was born in Tel Aviv in 1951 and, in 1973, moved to London to study at the AA School of Architecture.
In the early 1980s he established, with Caroline Thorman, One Off Ltd., a design studio and workshop, followed in 1989 by Ron Arad Associates, an architecture and design practice.
In 1997 Arad was appointed Professor of Furniture Design at the Royal College of Art in London and two years later became Professor of Industrial Design there.
Ron Arad works for some of the most important furniture manufacturers, such as Cappellini, Kartell, Moroso and Vitra.
Besides his activity as a product designer, he also works in the field of architecture and his projects include the Tel Aviv Opera in Israel.
The text of this book is an interview by Matthew Collings, a contemporary art critic, who, as he points out, doesn't know much about design but wants to understand more.
The conversation between Collings and Arad starts with the question: what is design?
From this first, basic question they embark on a journey that touches the most important art and design issues, inside and outside Ron Arad's work. Stimulated by the Matthew Collings' questions, Ron Arad goes through the main aspects of his work, explaining some of his projects in detail and talking about his relationship with design, architecture and art in general.
The interview is divided into 10 sections on 10 different subjects and illustrated with many of Ron Arad's projects, accompanied by narrative captions that explain their history and their main features and characteristics.
BIC:
AGB Individual artists, art monographs, AKB Individual designers, AKP Product design, AM Architecture