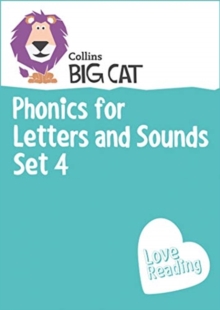 Phonics for letters and soundsSet 4
0008444447 / 9780008444440
Usually dispatched within 4 weeks
The ideal way to try Collins Big Cat, plug gaps and boost your reading resources at unbeatable prices.
Collins Big Cat Sets include a 20% discount on the normal price. Collins Big Cat Phonics for Letters and Sounds features exciting fully decodable fiction and non-fiction readers to enthuse and inspire children.
They are fully aligned to Letters and Sounds Phases 1-6 and contain reading notes in the back. Phonics for Letters and Sounds Set 4 contains 80 readers from Band 0/Lilac to Band 7/Turquoise.
A built-in 20% discount is included in the price. Please note that the Phonics for Letters and Sounds Set 4 does not include the Phonics Handbooks which can be purchased separately. Phonics for Letters and Sounds Set 4 contains the following 80 books:Fiction:Old MacDonald Had a FarmIncy Wincy SpiderHumpty DumptySit Tog!Go Mat!SidPit Pat Pit PatNo Tiff!Dan TapsMel and the Big MessSit Sip NapTim Tips ItPip and PopDash to DigRun to WinFuzz and BuzzJazz and JeffVisit the VetToo Hot!Sid the SheepOff to Town!Nipper and GullI Look for MarkCrick and Crock Have LunchDucks on TrucksThumperSpook NightDragon in the JamI Love It!The Stone ShadowsDon't Blame Me!Be a Cave ExplorerPixie Makes a FriendJake and Jen and the Balloon of DoomOodles of NoodlesThe Heroes of White Whale LighthouseLittle Pickle and Greedy GiantThe Shy MonsterTitanic SurvivorThe Clockwork Hand Non-fiction:At the BeachPeople Who Help UsParty TimeIt TipsTap Tip SipTatPick a Pet!Rag DuckSit Tip PatNip It!
Dig It!Tap It InPots, Cans, Cups!Rip It! Tip It!On the BusFun to ThinkDig and TipSing, Ting, PingCan you?Odd FishOwls in the NightDown to UpSun and RainZoom to the MoonGood Things from FarmsAt the Medical RoomTrack a T-RexStormsExtinct MonstersIt's Freezing Out!This Planet is Our HomeShow TimeAnimal Tricks: Sticking PowerBertha BenzIris's Wild RideCrocs and RocksExtraordinary PetsMystery Structures from the PastPoles ApartPlastic PlanetDown the Drain
BIC:
JNU Teaching of a specific subject, YQCR5 Educational: English language: readers & reading schemes: Synthetic Phonics, YQCS Educational: English language: reading & writing skills