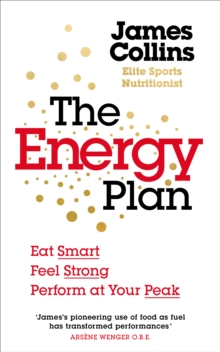 The energy plan
1785042297 / 9781785042294
22 cm 293 pages : illustrations (black and white)
`James's pioneering use of food as fuel has transformed players' performances - and now he can do the same for you.' - Arsene Wenger OBEThe secret of the sports elite - and how you can eat to win in your lifeWorld-leading sports nutritionist James Collins shapes the eating habits of Olympic athletes and Premier League footballers, so they are on peak form when it counts.
After a decade of working with the likes of Arsenal FC, England Football and Team GB, now he's distilling his elite sports success into simple food principles that any of us can follow to feel at our best in our daily lives. Peak performance is all about energy and how to eat and exercise right for your body and your routine.
By following The Energy Plan, you will learn how to fuel your body for your life, power through the 4pm slump and resist the junk foods that drag you down.
Instead you will naturally choose foods that leave you bursting with energy for work and play - and allow you to fully recharge afterwards.
You'll feel more productive, sleep well, lose unwanted weight and avoid illness. Forget fasting and low carb diets. The Energy Plan is a whole new mindset that will forever change your relationship with food, exercise and your body, giving you a winning edge in everything that you do. 'After following James's plan, I had so much more energy and felt at my peak physically.'Alex Oxlade-Chamberlain, Liverpool FC & England 'This isn't a diet book, it's a guide to new ways of thinking and the science is easy to digest.' - Daily Express'Who wouldn't want to jump out of bed early in the morning with vigour or get to the end of the day without feeling like the walking dead?
This is where James can help.' - METRO'James Collins is a world leader in the field of performance nutrition.
There is no one better to de-bunk nutrition myths and clearly explain how to reach your goals in a sustainable, enjoyable and energised way.'Professor Greg Whyte OBE'I have huge respect for James's evidence-based approach - he knows exactly what it takes to get the best out of anyone.'Dr Kevin Currell, Director of Science, English Institute of Sport
BIC:
VFDM Men's health, VFDW Women's health, VFM Fitness & diet, VS Self-help & personal development