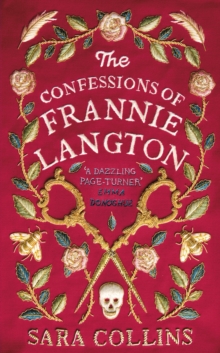 The confessions of Frannie Langton
0241349192 / 9780241349199
'Deep-diving and elegant . . . Wide Sargasso Sea meets Beloved meets Alias Grace' Margaret Atwood 'Sara Collins takes the gothic genre by the scruff of the neck...a triumph of powerful characterisation melded with suspenseful plotting' Bernadine EvaristoTHE 'DAZZLINGLY ORIGINAL' DEBUT NOVEL BY A NEW LITERARY STARWINNER OF THE COSTA BOOK AWARDS FIRST NOVEL PRIZE 2019WATERSTONES BOOK OF THE MONTH'They say I must be put to death for what happened to Madame, and they want me to confess.
But how can I confess what I don't believe I've done?'1826, and all of London is in a frenzy.
Crowds gather at the gates of the Old Bailey to watch as Frannie Langton, maid to Mr and Mrs Benham, goes on trial for their murder.
The testimonies against her are damning - slave, whore, seductress. And they may be the truth. But they are not the whole truth. For the first time Frannie must tell her story. It begins with a girl learning to read on a plantation in Jamaica, and it ends in a grand house in London, where a beautiful woman waits to be freed. But through her fevered confessions, one burning question haunts Frannie Langton: could she have murdered the only person she ever loved?A WATERSTONES BOOK OF THE MONTHA beautiful and haunting tale about one woman's fight to tell her story, The Confessions of Frannie Langton leads you through laudanum-laced dressing rooms and dark-as-night back alleys, into the enthralling heart of Georgian London. 'A dazzling page-turner' Emma Donoghue 'A star in the making' Sunday Times 'Gothic fiction made brand new' Stef Penney'Stunning' Guardian'Spectacular' Natasha Pulley'Dazzlingly original' The Times 'A heroine for our times' Elizabeth Day
BIC:
1DBKESL London, Greater London, 2ZCG Georgian, 3JH c 1800 to c 1900, FFH Historical mysteries, FRH Historical romance, FV Historical fiction, HBTQ Colonialism & imperialism