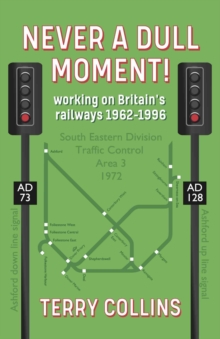 Never a Dull Moment! : working on Britain's railways 1962-1996
1913567222 / 9781913567224
Stock expected by 06/07/2022
129 x 198 mm 352 pages, 6 photographs and 3 sketched images
This beautifully written, meticulously detailed, highly engaging book is a rare treat.
It evokes a vanished world of railways that achieved extraordinary things logistically while using what is by modern standards distinctly old-fashioned technology.
Lifelong railwayman Terry Collins takes the reader on a journey into the heart of what working on the railways between 1962 and 1996 was like, from the days of steam, to the dawn of the modern railway age.
The book is also a real eye-opener about many of the behind-the-scenes incidents the public never hears about. 'Never a Dull Moment' is an absolutely unforgettable book As Terry himself says: 'I really enjoyed working on the railways.
We had our tragedies, sadly, but we also dealt with many other challenging incidents, including some bizarre ones, and when we won, against the odds, and got the trains and people moving again, it was a great feeling!
I say "we" because this book is also very much about the many people in the signal boxes, Traffic Control, stations, yards and on the track, that I worked with, some of them "larger than life" characters, but almost without exception, determined to win. And we did!'
BIC:
1DBK United Kingdom, Great Britain, 3JJ 20th century, BM Memoirs, KNGT Railway transport industries, TRF Railway technology, engineering & trades, WGF Trains & railways: general interest