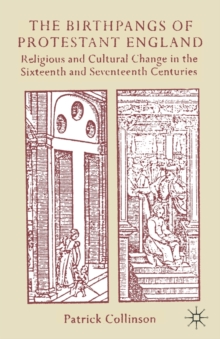 The Birthpangs of Protestant England : Religious and Cultural Change in the Sixteenth and Seventeenth Centuries
0333543076 / 9780333543078
Usually dispatched within 2 weeks
140 x 216 mm, 259 grams 188 pages, VII, 188 p.
Postgraduate, Research & Scholarly Learn More
Undergraduate
'...a masterly study.' Alister McGrath, Theological Book Review '...a splendid read.' J.J.Scarisbrick, TLS '...profound, witty...of immense value.' David Loades, History Today Historians have always known that the English Reformation was more than a simple change of religious belief and practice.
It altered the political constitution and, according to Max Weber, the attitudes and motives which governed the getting and investment of wealth, facilitating the rise of capitalism and industrialisation.
This book investigates further implications of the transformative religious changes of the sixteenth and seventeenth centuries for the nation, the town, the family, and for their culture.
BIC:
1DBKE England, 3JB c 1500 to c 1600, 3JD c 1600 to c 1700, HBJD1 British & Irish history, HBLH Early modern history: c 1450/1500 to c 1700, HRCC9 Protestantism & Protestant Churches, JFC Cultural studies