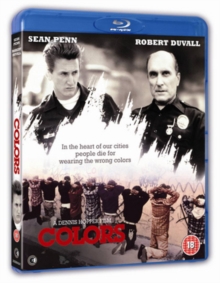 (18) Suitable for 18 years and over.
Dennis Hopper directs this classic 1980s crime drama starring Sean Penn and Robert Duvall.
Veteran cop nearing retirement Bob Hodges (Duvall) and rookie know-it-all Danny McGavin (Penn) are reluctantly teamed together on the L.A.P.D.'s C.R.A.S.H. (Community Resources Against Street Hoodlums) unit when they investigate a brutal gang murder.
They soon find themselves involved in a dangerous turf war and are forced to put their differences aside in an attempt to keep each other alive.
The supporting cast includes Maria Conchita Alonso, Randy Brooks and Glenn Plummer.
Interviews: Interviews with screenwriter Michael Schiffer and technical advisor/ex-LAPD Gang Division Dennis Fanning