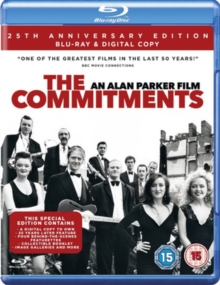 Blu-ray (Blu-ray / 25th Anniversary Edition (UV Copy))
(15) Suitable for 15 years and over.
Alan Parker directs this cult musical comedy based on the novel by Roddy Doyle.
Slick young Dubliner Jimmy Rabbitte (Robert Arkins) puts together a soul band made up of Dublin's out-of-work misfits.
Starting from scratch, the group members rediscover a sense of pride as they master the discipline necessary to make music.
An ageing trumpet player, who claims to have worked with all the greats, takes charge of their musical education but internal feuds and the realities of modern life threaten to overwhelm and destroy the band.
Interviews: '25 Years Later' - Interview with director Alan Parker and cast
Commentary: Audio commentary with director Alan Parker
Bonus Tracks: Music video