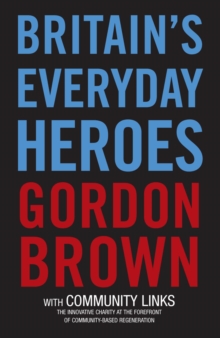 Britain's everyday heroes : the making of the good society
1845963075 / 9781845963071
Usually dispatched within 2 weeks
'This book is about people in all parts of Britain who have given me a fresh insight into the needs and aspirations of our country, what is great about it now and how it can become greater in the future.
It is the story of Britain's everyday heroes: the kind of heroes who live next door, and in the next street, and throughout our neighbourhoods - the kind of heroes we might ourselves become.' - Gordon Brown. In Britain's Everyday Heroes, Gordon Brown tells the stories of ordinary people whose willing commitment to a cause or a community has informed and inspired him.
The stories tell of a real Britain neither flawless nor broken down but caring, innovative, passionate and determined. He tells of the woman who has been the inspiration behind community reconciliation in Northern Ireland and the leader of a campaign tackling gang culture in Manchester.
Of the innovator transforming the way we use the Internet as a tool of democracy and the campaigner who has established the World's first Fairtrade Town.
Of councillors leading local regeneration efforts and public servants going far beyond the parameters of their job.
Of a new generation of social entrepreneurs proving that successful business can benefit communities.
Of the creative pioneers who brought the arts to a deprived housing estate, gardening to the refugees and opera to the homeless. And of the carers, mentors, coaches and volunteers he has met who give of themselves quietly, every day, never expecting praise or recognition.
BIC:
1DBK United Kingdom, Great Britain, BT True stories, JKSN1 Charities, voluntary services & philanthropy