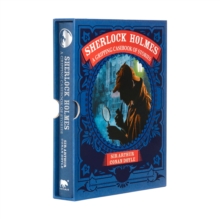 A gripping casebook of stories
1789509386 / 9781789509380
Partial contents: A study in scarlet. In slip case.
Sherlock Holmes: A Gripping Casebook of Stories contains the full-length novel A Study in Scarlet, plus 14 short stories.
A Study in Scarlet marked Sherlock Holmes' debut appearance in novel form, while Holmes made his first short story appearance in A Scandal in Bohemia, also included in this compendium. In his perceptive introduction to this compendium, leading crime writer Martin Edwards observes that 'the compelling evocation of character is what makes Conan Doyle's stores come alive'.
Ally this to vivid settings and the result is unbeatable entertainment enjoyed by crime fans the world over.
BIC: