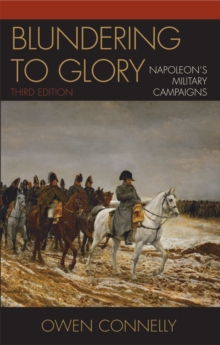 Blundering to glory : Napoleon's military campaigns (3rd ed)
0742553183 / 9780742553187
Stock expected by 30/10/2021
Previous ed.: Wilmington, Del.: S.R., 1999.
Renowned for its accuracy, brevity, and readability, this book has long been the gold standard of concise histories of the Napoleonic Wars.
Now, in an updated and revised edition, it is unique in its portrayal of one of the world's great generals as a scrambler who never had a plan, strategic or tactical, that did not break down or change of necessity in the field.
Distinguished historian Owen Connelly argues that Napoleon was the master of the broken play, so confident of his ability to improvise, cover his own mistakes, and capitalize on those of the enemy that he repeatedly plunged his armies into uncertain, seemingly desperate situations, only to emerge victorious as he blundered to glory.
Exploring this neglected aspect of Napoleon's battlefield genius, Connelly at the same time offers stirring and complete accounts of all the Napoleonic campaigns.
BIC:
1D Europe, 3JH c 1800 to c 1900, HBJD European history, HBLL Modern history to 20th century: c 1700 to c 1900, HBWH Napoleonic Wars, JWLF Battles & campaigns