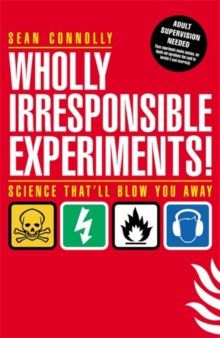 Wholly irresponsible experiments!
1840468769 / 9781840468762
Stock expected by 30/04/2021
Reprint. Originally published: 2007.
Do try these at home! "Wholly Irresponsible Experiments" brings back the fun of being twelve.
Scores of experiments take in a dazzling array of explosions, geysers, rockets and some outright oddities.
The sparkling text includes ingredients, methods, outcomes, scientific explanations - and warnings - for each experiment.
Charming illustrations recall the age of inspired amateurs.
Amaze your friends with: a fire started with ice; a smoke bomb worthy of Harry Potter; a 5-metre-high cola fountain, perfect for turning enemies into a sticky mess; and a dramatic rocket - from a very ordinary film canister.And if you need any excuses, the exploding sandwich bag is, after all, demonstrating a neat chemical reaction.
That bit of King Edward potato launched from a tube and ricocheting around the kitchen - simple: Boyle's Law!
Irresponsible - maybe. Cracking fun - definitely!
BIC: