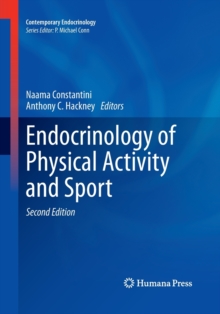 Endocrinology of Physical Activity and Sport : Second Edition (Softcover reprint of the original 2nd ed. 2013)
1493956345 / 9781493956340
178 x 254 mm 558 pages, 22 Tables, black and white; XI, 558 p.
Understanding the influence and interaction between physical activity and the endocrine system are of paramount importance in dealing with a multitude of health problems.
In Endocrinology of Physical Activity and Sport, renowned physicians and researchers provide a comprehensive and expanded update on the scientific, clinical and practical components of endocrinology as related to sport and exercise.
The authors thoroughly review what is known about how such activity effects the endocrine system and how in turn these hormonal responses affect many other organs and systems of the body.
In addition, aspects of endocrinology in non-glandular tissue which have endocrine actions are addressed; for example, adipocytes and the release of leptin and related adipocytokines.
Further, a wide range of clinically related topics such as athletic amenorrhea, osteopenia, sarcopenia, and hypogonadism are included.
This new edition critically integrates what is known about the complex interaction of the endocrine system in the sports context and will again prove immensely valuable to all physicians and clinical investigators treating those active in sports today.
BIC: