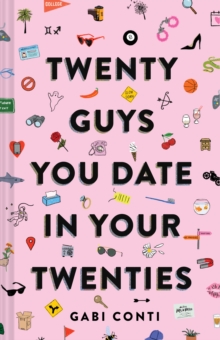 Twenty Guys You Date in Your Twenties
1452179743 / 9781452179742
A bitingly funny field guide to modern love from the woman who's dated them all.
Through highly relatable anecdotes from a decade of dating, 20 Guys You Date in Your 20s dives into the joys, frustrations, and hilarity of swiping right on relationships.
After a world-shattering breakup in her early twenties, comedian Gabi Conti logged thousands of hours on dating apps, conducting research and gathering intel on our behalf.
Real and relatable, this dating guide is laugh-out-loud funny without being prescriptive or cynical. * Each chapter focuses on a different type of guy and offers advice on how to deal, from The Guy Who's Great on Paper to The Guy Who Texts "sup" at 2 a.m. * Includes charts, quizzes, "Boy Bingo," and a removable, foldout poster* Captures the frustrations, heartache, and hilarity of Tinder, Bumble, Hinge, OkCupid, and all other online dating appsFor the modern, app-using woman, this hilarious dating guide profiles 20 stereotypical men, from their physical appearance and dating style to red flags, tips, and success stories. Filled with charts and quizzes, hysterical anecdotes, and helpful insight from therapists and dating coaches, these pages offer advice and humor in equal measure. * Perfect as a funny breakup gift for women or a gift for single friends* Offers sincere advice to cope with dating app horror stories* Great for fans of How to Date Men When You Hate Men by Blythe Roberson, Bye Felipe: Disses, Dick Pics, and Other Delights of Modern Dating by Alexandra Tweten and HEY, U UP? (For a Serious Relationship) by Emily Axford and Brian Murphy
BIC:
VFVG Dating, relationships, living together & marriage, WHX Humour collections & anthologies