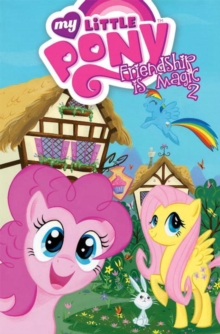 Friendship is magic
1613778600 / 9781613778609
Usually dispatched within 2 weeks
23 cm 52 pages : chiefly illustrations (colour)
It's My Little Pony stories you can put in your pocket!
This specialdigest-sized collection of "Friendship is Magic" stories takes you into the landof Equestria and continues the stories of Twighlight Sparkle, Applejack,Fluttershy, Pinkie Pie, Rainbow Dash, and Rarity.
Read along as their talesunfold in the conclusion of "The Return of QueenChrysalis."
BIC:
YFW Comic strip fiction / graphic novels (Children's / Teenage)