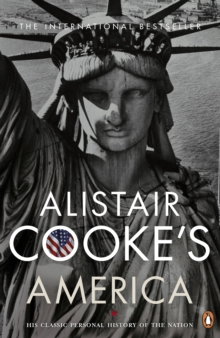 Alistair Cooke's America
0141036087 / 9780141036083
Now regarded as a classic, Alistair Cooke's America is an intimate portrait of the nation, and an irresistibly readable guide to what has made this powerful democracy work and survive through the years. For over sixty years Alistair Cooke wrote and broadcast on every facet of American life with incomparable wit and wisdom.
This is his 'personal history' of America, the bestselling book that accompanied his legendary television series, with full colour photos alongside the text. Beginning with the controversial discovery of America, Alistair Cooke writes with engaging wit and wisdom about the explorers who put their new-found land on the map, the pioneers who tamed the Wild West, the soldier who fought for independence and the tycoons who built fortunes.
From the Mayflower to the gold rush, the Jazz Age to Pearl Harbor, with portraits of figures as varied as Buffalo Bill, John D.
Rockefeller and Martin Luther King, here is the American story in all its triumphs and failures, grandeurs and tragedies. 'Cooke was the special relationship' Daily Mail 'Civilized, literate, rational, graceful, humane' New York Magazine Alistair Cooke (1908-2004) enjoyed an extraordinary life in print, radio and television.
The Guardian's Senior Correspondent in New York for twenty-five years and the host of groundbreaking cultural programmes on American television and of the BBC series America, Cooke was, however, best known both at home and abroad for his weekly BBC broadcast Letter from America, which reported on fifty-eight years of US life, was heard over five continents and totalled 2,869 broadcasts before his retirement in February 2004, far and away the longest-running radio series in broadcasting history.
BIC:
1KBB USA, DNJ Reportage & collected journalism, HBJK History of the Americas, HBLW 20th century history: c 1900 to c 2000