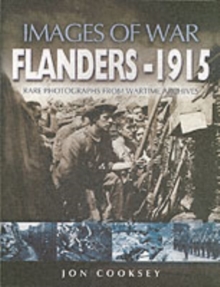 Flanders 1915 : rare photographs from wartime archives
1844153568 / 9781844153565
By Christmas 1914 Britain's Regular Army had virtually ceased to exist.
Four months of hard fighting had drained its manpower and the Territorial Army were called on to plug the gaps.
The part-timers leapt at the chance to serve their country overseas and were soon on their way to the trenches and the harsh realities of war on the Western Front.
Flanders 1915 tells the story, through rare and previously unpublished photographs and extended captions, of one of those eager Territorial battalions posted to Flanders during the first twelve months of WW1.
It forms a unique and intimate record of the early years of war; many images captured on film by the private cameras of the battalion's junior officers, before official censorship was established.
Above all it is a rare and outstanding portrait of the 'great adventure' of war in the days before Loos, the Somme and Passchendaele and the resulting lengthy casualty lists.
BIC:
1DDF France, 3JJF c 1914 to c 1918 (including WW1) , HBG General & world history, HBJD European history, HBW Military history, HBWN First World War, JWLF Battles & campaigns