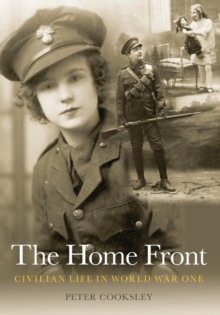 0752436880 / 9780752436883
Stock expected by 17/04/2020
World War One continues to fascinate but little has been written on the civilian's war.
From bombing to rationing, from civil defence to war work, the face of Britain was radically changed as a result of the conflict.
More than once Britain was almost brought to its knees by unrestricted submarine warfare and by the end of the war German Zeppelins and Gotha bombers had managed to bomb many parts of Eastern England, while in 1914 the German High Seas fleet bombarded the East Coast destroying buildings in places as diverse as Hartlepool and Lowestoft.
The First World War was the first war to have a huge impact on civilians and few were safe from attack.
All endured hardship as rationing came into force. What was life like during the war for the civilian population?
What hardships did they endure? How did they live? What was the feeling of those who stayed at home? Peter Cooksley tells us the true story of civilians at war on the Home Front.
BIC:
3JJF c 1914 to c 1918 (including WW1) , HBJD1 British & Irish history, HBWN First World War