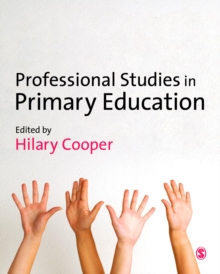 Professional studies in primary education
1446249891 / 9781446249895
Developing an understanding of the professional aspects of teaching is an integral part of training to teach in primary education, and requires a broad and deep engagement with a wide number of practical and theoretical issues.
Professional Studies in Primary Education provides a wide-ranging overview of everything you will need to know to prepare you for your primary initial teacher education course, and your early career in the classroom.
Covering practical issues including behaviour management and classroom organisation, through to thought-provoking topics such as reflecting on your own teaching practice and developing critical thinking skills in the classroom, this textbook offers a modern and insightful exploration of the realities of teaching in primary education today. This approach is supported by:
An awareness of current policy developments and statutory requirements
Examining complex, multi-faceted issues in education
Exploring alternative approaches to primary teaching practice
Investigating ways to encourage personal and professional development as a teacher.
Additional online resources at www.uk.sagepub.com/cooper
There are also free companion resources supporting and extending chapters, including activities, case studies, further reading and useful web links.


This is essential reading for all students on primary initial teacher education courses including undergraduate (BEd, BA with QTS), postgraduate (PGCE, SCITT), and employment-based routes into teaching.
Hilary Cooper is Professor of History and Pedagogy at the University of Cumbria
BIC: