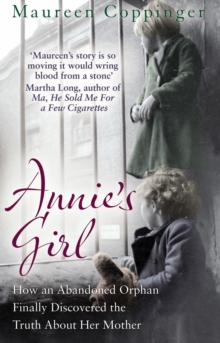 Annie's girl : how an abandoned orphan finally discovered the truth about her mother
1780576048 / 9781780576046
Stock expected by 28/05/2022
20 cm 432 pages, 8 unnumbered pages of plates : illustrations (black and white)
Reprint. Published in Scotland. Originally published: 2009.
The shocking but ultimately uplifting life story of an Irish woman who endured 13 years of cruelty and injustice in an orphanageMaureen Coppinger's earliest memory is of watching the woman she believed to be her mother walk away and abandon her to the care of the nuns at one of Ireland's notorious industrial schools.
She was just three years old. She remained in the orphanage until the age of 16, subjected to cruelty and neglect, and starved of love and affection.
It was an environment from which no one emerged unscathed.
Throughout these tormented years, Maureen dreamed only of escape, and when she was contacted again by her mammy she believed all her dreams were about to come true.
Life in the outside world brought its own challenges, however, and Maureen was thrown into turmoil when she discovered that the truth about her past was more murky than she had ever realised. Annie's Girl stands apart as a poignant testimony to the resilience of the human heart. This touching and evocative memoir is the incredible story of an illegitimate industrial-school survivor's profound struggle to overcome a shame-filled past and solve the mystery of her origins. Maureen Coppinger emigrated to Canada in 1955, where she married and raised three sons.
She worked as a school secretary for 25 years before retiring in 1994 and now spends her leisure time as a volunteer for the Galway Association.
BIC: