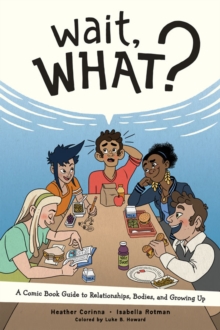 Wait, what? : a comic book guide to relationships, bodies, and growing up (First edition)
1620106590 / 9781620106594
Stock expected by 25/05/2021
23 cm 75 pages : chiefly illustrations (black and white, and colour)
Includes blank sections to be filled in by the reader.
From Heather Corinna,founder and director of Scarleteen.com, and Isabella Rotman, cartoonistand sex educator, comes a graphic novel guide that covers essential topics forpreteens and young teens about their changing bodies andfeelings. Join friends Malia, Rico,Max, Sam and Alexis as they talk about all the weird and exciting parts ofgrowing up!
This supportive group of friends are guides for some trickysubjects.
Using comics, activities and examples, they give encouragement andcontext for new and confusing feelings and experiences. Inclusive of differentkinds of genders, sexualities, and other identities, they talk about importanttopics like:- Bodies, includingpuberty, body parts and body image- Sexual and genderidentity- Gender roles andstereotypes- Crushes, relationships,and sexual feelings- Boundaries andconsent- The media and culturalmessages, specifically around bodies and sex- How to be sensitive,kind, accepting, and mature- Where to look for moreinformation, support and helpA fun and easy-to-readguide from expert sex educators that gives readers a good basis and anage-appropriate start with sex, bodies and relationships education!
The perfectcomplement to any school curriculum.
BIC:
YFW Comic strip fiction / graphic novels (Children's / Teenage), YX Personal & social issues (Children's / Teenage), YXA Personal & social issues: body & health (Children's / Teenage), YXAX Personal & social issues: sex education & the facts of life (Children's / Teenage), YXFT Personal & social issues: teenage pregnancy (Children's / Teenage)