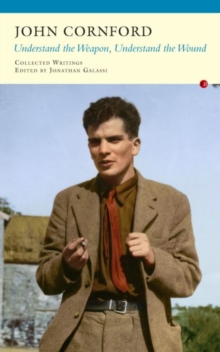 Understand the weapon, understand the wound : collected writings
1784102482 / 9781784102487
Understand the weapon, understand the wound:What shapeless past was hammered to action by his deeds,Only in constant action was his constant certainty found.He will throw a longer shadow as time recedes.from 'Sergei Mironovitch Kirov'John Cornford (1915-1936) has long been held in high estimation as the outstanding English writer who fell to the Fascists in Spain.
This collection of writings from Cornford's thirteenth to his twenty-first year, when he died of wounds received in action, is a revealing autobiography, showing the sources of his political and literary commitments.
In this authoritative survey of Cornford's poems, essays and letters, Jonathan Galassi gives access to material not available elsewhere; his introduction and notes, together with two new afterwords by Jane Bernal and Richard Baxell, situate the work in its political and personal contexts.
As Galassi suggests in his introduction, the republication of Cornford's writings eighty years after his death 'celebrates the gem-like intensity of one young man's prodigious desire and need to change the world.'
BIC: