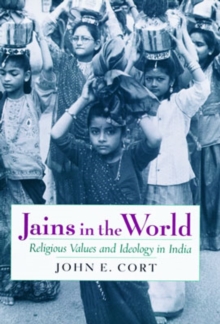 Jains in the world : religious values and ideology in India
0195132343 / 9780195132342
Stock expected by 13/12/2019
This book presents a detailed fieldwork-based study of the ancient Indian religion of Jainism.
Drawing on field research in northern Gujarat and on the study of both ancient Sanskrit and Prakrit and modern vernacular Jain religious literature, John Cort provides a rounded portrait of the religion as it is practised today.
Cort begins by looking at the institutional structures that make up Jain society and by examining the major facets of Jain practice.
Separate chapters present descriptions of temple worship and the connected Jain understandings of divinity, interactions between laity and monks and nuns, ascetic and dietary practices, and the many festivals and observances that make up the Jain calendar year.
The portrait of the Jains that emerges in this book is significantly different from those found in earlier text-based studies that failed to portray the lived experience of Jainism.
Cort's own interpretation of Jainism focuses on a distinction between two realms of value.
One is the clearly defined religious ideology that is at the core of mendicant practice and ideal lay practice, and whose goal is liberation. The other, less clearly delineated because it stems from everyday ethics and religious imagination, is the realm of wellbeing.
Cort demonstrates that this informal, unarticulated concept is the necessary complement to the formal ideology and is no less authentically Jain.
Shedding new light on Jainism and highlighting the interaction between formal religious ideology and implicitly enunciated values, this highly original study will be of enormous value to both scholars and students in the fields of religious and cultural studies.
BIC:
1FKA India, HPDF Oriental & Indian philosophy, HRAX History of religion, HRKJ Jainism