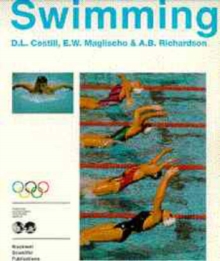 Handbook of Sports Medicine and Science Swimming
0632030275 / 9780632030279
191 x 247 mm, 628 grams 224 pages
This volume introduces a new series and is the first Handbook of Sports Medicine and Science. It is published uder the auspices of the International Olympic Committee and with the blessing of FINA.
Swimming has been written primarily for athlietic trainers and team coaches, as well as medical doctors in family practice, health-related professionals and athletes themselves. It covers biology, mechanics and training, and gives practical guidance on medical issues related both preparation and treatment.

The section on mechanical aspects of swimming is central to the book. An introduction describes important concepts in swimming propulsion, the four basic sweeps and the role of the kick. This is followed by extensive sequential photography; this section ends with the latest information on starts and turns.

Written by a sports scientist, a coach and a physician, Swimming is the broadest work yet written in this field for sports medicine and science alike.
BIC:
Title Unavailable: Out of Print