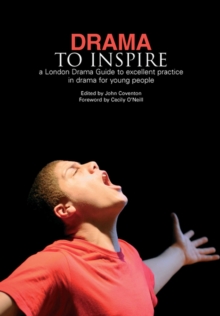 Drama to inspire : a London Drama guide to excellent practice in drama for young people
185856476X / 9781858564760
Stock expected by 11/04/2020
"Drama to Inspire" is a timely selection of practice based accounts produced by fifteen workshop leaders and friends of the long established association for teachers of drama, London Drama.
Many of the authors are internationally renowned for their work.
Each piece affirms the immense potential for dynamic learning that is at the heart of drama.
They illustrate how teachers can use inspiring drama to provide valuable reflective learning experience while at the same time fulfilling the essential requirements of the curriculum.
These are some of the gems in this book: the ethics and aesthetics of risk-taking in the drama room are explored by Andy Kempe and also by Stella Barnes Alistair Martin-Smith and Lucy Cuthbertson offer contrasting accounts of working with Shakespeare multi-disciplinary projects are explored by Adam Annand and others.
Daniel Shindler examines emotional and spiritual health in his project 'Who am I: Roots/Routes', Stuart Bennett looks at the use of theatre companies and actors in the classroom, Julia Potts shows the potential of good relationships between commercial theatre and schools, Amanda Kipling identifies the skills drama teachers need today, and Dorothy Heathcote, Gaynor Pilbeam, Jonothan Neelands and others describe their current practice and philosophies through their ongoing projects. "Drama to Inspire" supports teachers of drama, celebrates the diversity of approaches and offers individual teachers a variety of ways forward.
It is a must for all who care about where drama can go.
BIC:
JNU Teaching of a specific subject, YQD Educational: drama studies