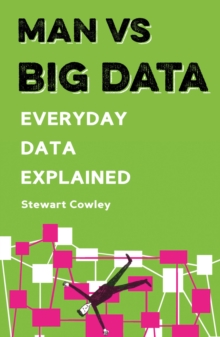 Man vs big data : everyday data explained
Part of the Man vs series
1781316694 / 9781781316696
Stock expected by 23/04/2021
20 cm 224 pages : illustrations (black and white)
Have you ever wondered how to beat the bookies? How does your computer know you might like this song? And should you be worried about this? Everything we do leaves a trail of data behind, from buying something on a credit card, to using a GPS-enabled mobile phone - whether you know it or not, like it or not, Big Data is now a part of modern life.
Heralded as the Fourth Industrial Revolution, it is now more crucial than ever to learn about how data is affecting the way we live.
Exploring the numerous ways in which 'Big Data' has, sometimes imperceptibly, infiltrated our lives, this accessible and informative book looks at one of the most important subjects facing us today, and helps you get to grips with what that means for you.
With quirky, humorous illustrations this important book distills the complexities of the most absorbing statistics and data of modern life, showing us how understanding a little more can help improve your life.
BIC:
PBT Probability & statistics, PDZ Popular science, UY Computer science