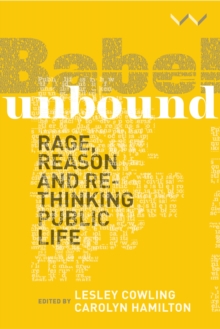 Babel Unbound : Rage, reason and rethinking public life
1776145895 / 9781776145898
156 x 234 mm 292 pages, 1 Illustrations, black and white
The notion that societies mediate issues through certain kinds of engagement is at the heart of the democratic project and often centres on an imagined public sphere where this takes place.
But this imagined foundation of how we live collectively appears to have suffered a dramatic collapse across the world in the digital age, with many democracies apparently unable to solve problems through talk - or even to agree on who speaks, in what ways and where.
In this timely and erudite collection, writers from southern Africa combine theoretical analysis with the examination of historical cases and contemporary events to demonstrate that forms of publicness are multiple, mobile and varied.
Drawing primarily on insights and materials from Africa for their capacity to speak to global developments, the authors in this volume propose new concepts and methodologies to analyse how public engagements work in society. The contributions examine charged examples from the Global South, such as the centuries old Timbuktu archive, Nelson Mandela's powerful absent presence in 1960s public life, and the contemporary debates around the 2015/2016 student activism of #rhodesmustfall and #feesmustfall.
These cases show how issues of public discussion circulate in unpredictable ways. Babel Unbound will be of interest to anyone looking to find alternative ways of thinking about publicness in contemporary society in order to make better sense of the cacophony of conversations in circulation.
BIC: