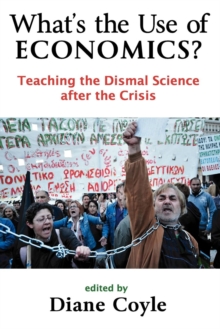 What's the use of economics? : teaching the dismal science after the crisis
1907994041 / 9781907994043
Stock expected by 25/04/2021
With the financial crisis continuing after five years, people are questioning why economics failed either to send an adequate early warning ahead of the crisis or to resolve it quickly.
The gap between important real-world problems and the workhorse mathematical model-based economics being taught to students has become a chasm.
Students continue to be taught as if not much has changed since the crisis, as there is no consensus about how to change the curriculum.
Meanwhile, employer discontent with the knowledge and skills of their graduate economist recruits has been growing.
This book examines what economists need to bring to their jobs, and the way in which education in universities could be improved to fit graduates better for the real world.
It is based on an international conference in February 2012, sponsored by the UK Government Economic Service and the Bank of England, which brought employers and academics together.
Three themes emerged: the narrow range of skills and knowledge demonstrated by graduates; the need for reform of the content of the courses they are taught; and the barriers to curriculum reform. While some issues remain unresolved, there was strong agreement on such key issues as the strengthening of economic history, the teaching of inductive as well as deductive reasoning, critical evaluation and communication skills, and a better alignment of lecturers' incentives with the needs of their students.
BIC: