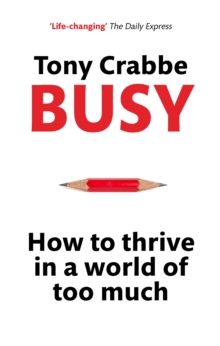 Busy : how to thrive in a world of too much
0349401209 / 9780349401201
Professional & Vocational Learn More
Tertiary Education (US: College)
Reprint. Originally published: 2014.
'Life-changing' Daily ExpressIf you want to take control of your career - and your life - make sure you're not too busy to read this book. Today's world is one of too much: too much work to do, too much communication, too much competition, too much uncertainty and too much information.
We are striving to keep up, but inevitably we're falling behind, leaving us with a nagging sense of failure that is hard to shake off.
In Busy, Tony Crabbe debunks the myth that satisfaction at work comes from getting everything done. Instead, he demonstrates that what will enable you to thrive is regaining a sense of mastery over your life, focusing on making an impact, engaging with loved ones and creating the momentum necessary to make changes. 'You'll want to ban "busy" from your vocabulary after reading this delightful takedown of busyness as an excuse . . . a very smart, fun and enlightening read' Success Magazine
BIC:
KJM Management & management techniques, VS Self-help & personal development