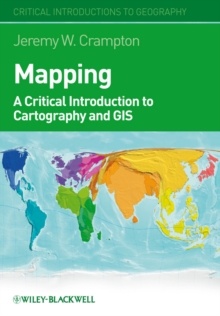 Mapping : a critical introduction to cartography and GIS
1405121734 / 9781405121736
Stock expected by 26/01/2020
25 cm x, 217 p. : ill., maps
postgraduate Learn More
research & professional
undergraduate
There is often a perception that GIS and cartography are 'techniques' or applications.
A high degree of skill may be needed, the thinking goes, but they are quite untouched by the problematizing currents of critical theory.
Jeremy Crampton demonstates the naivety of such an assumption.
He not only situates critical thought at the centre of the mapping enterprise, he convincingly links GIS and cartography with critical thought in geography and allied disciplines as a source of spatial knowledge.
Dividing his book into four parts, Crampton considers in turn the historical development of mapping: the competing answers available to the seemingly straightforward question 'why use maps?': the idea that maps produce space and place: and finally the politics of mapping.
An 'interlude' in each of the first three parts gives the reader an opportunity to encounter the issues through examination of particular case-studies.
BIC: