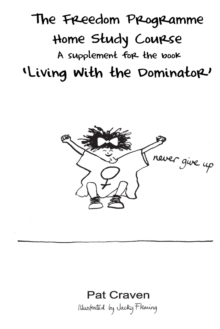 The Freedom Programme home study course: A supplement for the book Living with the dominator
0955882729 / 9780955882722
Pat Craven while working as a probation officer ran courses for men who were violent to women.
She used this experience to create the Freedom Programme to help and empower women and girls who may be involved with such men.
The programme is also available for men who want to improve their behaviour.
The programme includes information about the effects of domestic abuse on children and about how to recognise an abuser.
It is available at hundreds of locations across the UK including several schools.
Now this programme is available as a home study course for any adult who wishes to access it.
It must be used in conjunction with Pat Craven's book "Living with the Dominator".
It is not a stand alone publication. The course is easy to follow and contains no jargon.
BIC:
JFFE3 Domestic violence, VFV Family & relationships, VS Self-help & personal development