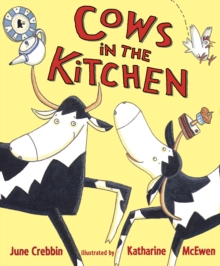 1406326321 / 9781406326321
30 cm [26] p. : chiefly col. ill.
Reprint. Originally published: 1998.
While Tom Farmer snoozes the animals are whooping it up in the farmhouse!Cows in the kitchen, moo, moo, moo.
Ducks on the dresser, quack, quack, quack. Pigs in the pantry, oink, oink, oink... When Tom Farmer wakes up from his nap in the haystack he finds pandemonium in the farmhouse!
Out of the farmhouse, shoo, shoo, shoo, he send the animals back to the yard.
But it isn't long before Tom Farmer's fast asleep again - and the cows, the ducks, the pigs, the hens and the sheep come creeping back into the farmhouse to have some more fun!
BIC:
YBC Picture books, YFB General fiction (Children's / Teenage), YQE Educational: English literature
Title Unavailable: Out of Print