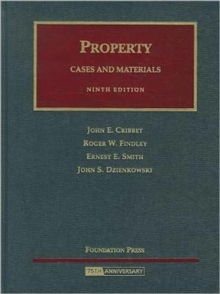 Property Cases and Materials (9 Revised edition)
1599412527 / 9781599412528
Stock expected by 02/03/2020
A big-picture look at the history and principles influencing the Anglo-American institution of the law of land, this casebook provides the core materials for a property course.
The format of Property allows for a variety of teaching methods and applies easily to courses ranging from three to six hours.
The Ninth Edition retains the organization and basic content of prior editions; however, it includes more introductory text to give students the necessary background before examining the difficult problems encountered in the law of property.
Many sections have been reorganized to facilitate more efficient coverage of the material.The authors updated the book with relevant cases and materials while maintaining the core property material such as estates in land material, emphasizing historical development, with additional cases and notes to show the extent to which the past governs the present. Updated Coverage of:Concept of Property: Kremen v.
Cohen Network SolutionsRights of a Property Owner: Intel Corp. v. HamidiTakings law: Kelo v. City of New LondonFinders law: Popov v. HayashiAdverse Possession: Marengo Cave v. RossSignificant Revisions from the Previous Edition:Introductory text in most sections to facilitate coverageNew textual material on future interestNew section on adverse possession of real propertyFor more information and additional teaching materials, visit the companion site.
BIC: