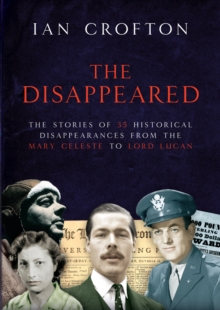 The disappeared : the stories of 35 historical disappearances from the Mary Celeste to Lord Lucan
1847248535 / 9781847248534
Usually dispatched within 4 weeks
28 cm 171 p. : ill., ports.
The eerie roll-call of those who have disappeared mysteriously and apparently without trace sounds a troubling but strangely compulsive descant alongside the main themes and stories of human history. From the crew of the Mary Celeste to Lord Lucan, and from Ambrose Bierce to Jimmy Hoffa, history is littered with cases of perplexing disappearance.
Beyond the wilder excesses of paranormal speculation and theories of alien abduction, their stories offer the inquisitive reader both the thrill of uncertainty and the excitement of informed guesswork as to the truth behind what appear to be utterly impenetrable mysteries.
BIC: