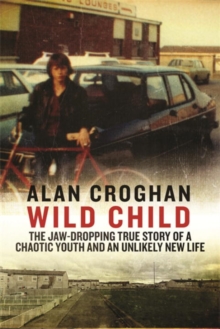 0241968526 / 9780241968529
20 cm 229 pages : illustrations (black and white)
Reprint. Originally published: as Disorganised crime. Dublin: Penguin Ireland, 2013.
Wild Child by Alan Croghan: a child's journey through crime, punishment and redemption. From the moment his mother went into labour with him - on a transatlantic flight - Alan Croghan's life was chaotic.
As a young boy in north Dublin, he drank, took drugs and rarely attended school.
What he loved best was stealing cars, driving them around, and swapping parts with his fellow thieves.
By the age of sixteen he had accumulated thirty-five criminal convictions - and yet he'd never been locked up.
Fearing that his friends suspected he was a police informer, he contrived to get himself imprisoned. Wild Child - published in trade paperback as Disorganised Crime - is the story of this troubled young boy, and of the man he became - a criminal and alcoholic who eventually had the strength and courage to get sober and go straight.
Sometimes shocking, often hilarious, and always gripping, Alan Croghan's memoir is both a true-crime classic and an uplifting story of personal redemption. Alan Croghan was born in Dublin in 1968. After abandoning crime, he worked as a national newspaper journalist.
Wild Child is his first book. 'An extraordinary story of an extraordinary life' Matt Cooper, The Last Word, Today FM
BIC:
Title Unavailable: Out of Print