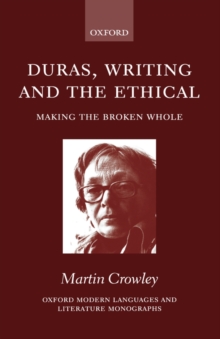 Duras, writing, and the ethical : making the broken whole
0198160135 / 9780198160137
Stock expected by 13/12/2019
Named as Outstanding Academic Book of 2001 by Choice
This book offers a study of the whole of Duras's written oeuvre, covering journalism and lesser-known works as well as more famous texts.
It brings out the constant presence of ethical questions in and around the experiences of passion and excess with which her work is always concerned, and subjects Duras's texts to an unprecedented level of close reading, carrying her beyond the terms of her usual reception.
On the basis of this approach, and with reference to Duras's involvement with her intellectual and political contexts, the book demonstrates the detailed engagement of Duras's writing in the ethical and political issues of her day.
Careful textual analysis shows the particular, fragile nature of this engagement, as well as the intricate textures of Duras's work; this leads to a striking new model of the relation between the literary text and the ethical life of its readers, which will be of importance not only to specialists in French Studies, but to all those interested in ethical criticism and modern literary studies.
BIC:
2ADF French, DSBH Literary studies: from c 1900 -, DSK Literary studies: fiction, novelists & prose writers, HPQ Ethics & moral philosophy, JFCX History of ideas