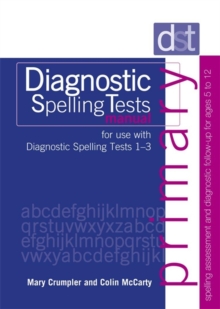 Diagnostic Spelling Tests Primary Manual (New ed)
0340912782 / 9780340912782
Usually dispatched within 4 weeks
210 x 300 mm, 298 grams 96 pages
Primary & Secondary Education (US: Elementary & High School) Learn More
The Diagnostic Spelling Tests provide a series of standardised group or individual spelling tests for pupils throughout their school years and beyond.
Each test is easy to administer and available in parallel forms A and B, which are carefully matched in content, style and difficulty.
Each test gives standardised scores and spelling ages, plus an optional diagnostic facility utilising the photocopiable marking grids in this Manual.
To support the diagnosis and an intervention programme, targeted follow-up tests are provided to check specific progress: the pupil's overall improvement can then be assessed using the parallel form.
Diagnostic Spelling Tests 1-3 are for primary-aged pupils: Test 1 ages 5-7 (Years 1 and 2) Test 2 ages 7-9 (Years 3 and 4) Test 3 ages 9-12 (Years 5 and 6) The vocabulary and phonic structures used for the spelling items reflect the order in which they are introduced in the National Literacy Strategy.
All of the target words are read aloud to the pupils.
Tests 1 and 2 comprise both picture items and illustrated cloze ('fill in the gap') passages, whereas Test 3 is entirely illustrated cloze passages. There is no set time limit, but each test is likely to take 20-30 minutes.
BIC:
YQCS Educational: English language: reading & writing skills
* Variable discounts between 0% and 15% are applied to items where BBfS cannot determine exact discounts from suppliers.