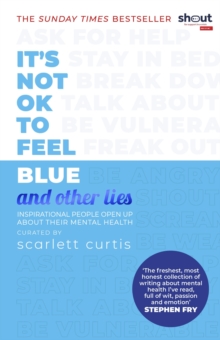 It's not OK to feel blue and other lies : inspirational people open up about their mental health
0241418380 / 9780241418383
20 cm xiii, 553 pages : illustrations (black and white)
General (US: Trade) Learn More
Children / Juvenile
Reprint. Includes blank sections to be filled in by the reader At head of cover title: Shout. Originally published: 2019.
'This is the freshest, most honest collection of writings about mental health that I've read...searing wit, blinding passion, bleeding emotion and a fantastic, heroic, glorious refusal to lie down and take it' - Stephen Fry'Reading this book made me feel more normal about the things I feel sometimes...It's a great book; however you're feeling, it'll help' - Ed Sheeran'This is the book I needed when I was little.
May this be a leap forward in the much needed conversation around mental health' - Jameela Jamil Everyone has a mental health.
So we asked:What does yours mean to you? THE RESULT IS EXTRAORDINARY. Over 60 people have shared their stories. Powerful, funny, moving, this book is here to tell you:It's OK. With writing from: Adam Kay - Alastair Campbell - Alexis Caught - Ben Platt - Bryony Gordon - Candice Carty-Williams - Charlie Mackesy - Charly Cox - Chidera Eggerue - Claire Stancliffe - Davina McCall - Dawn O'Porter - Elizabeth Day - Elizabeth Uviebinene - Ella Purnell - Emilia Clarke - Emma Thompson - Eve Delaney - Fearne Cotton - Gabby Edlin - Gemma Styles - GIRLI (Milly Toomey) - Grace Beverley - Hannah Witton - Honey Ross - Hussain Manawer - Jack Rooke - James Blake - Jamie Flook - Jamie Windust - Jessie Cave - Jo Irwin - Jonah Freud - Jonny Benjamin - Jordan Stephens - Kai-Isaiah Jamal - Kate Weinberg - Kelechi Okafor - Khalil Aldabbas - KUCHENGA - Lauren Mahon - Lena Dunham - Maggie Matic - Martha Lane Fox - Mathew Kollamkulam - Matt Haig - Megan Crabbe - Michael Kitching - Michelle Elman - Miranda Hart - Mitch Price - Mona Chalabi - Montana Brown - Nadia Craddock - Naomi Campbell - Poorna Bell - Poppy Jamie - Reggie Yates - Ripley Parker - Robert Kazandjian - Rosa Mercuriadis - Saba Asif - Sam Smith - Scarlett Curtis - Scarlett Moffatt - Scottee - Sharon Chalkin Feldstein - Shonagh Marie - Simon Amstell - Steve Ali - Tanya Byron - Travon Free - Yomi Adegoke - Yusuf Al Majarhi
BIC:
5AQ Interest age: from c 14 years, VFDM Men's health, VFJP Coping with anxiety & phobias, VFJS Coping with stress, VSPM Assertiveness, motivation & self-esteem, VXA Mind, Body, Spirit: thought & practice, YDC Anthologies (Children's / Teenage), YXA Personal & social issues: body & health (Children's / Teenage), YXL Personal & social issues: self-awareness & self-esteem (Children's / Teenage)