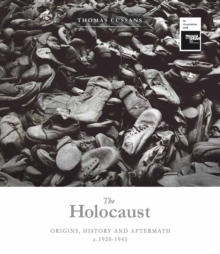 The Holocaust
0233006133 / 9780233006130
26 cm 144 pages : illustrations (black and white, and colour)
Reprint. "In association with Mâemorial de la Shoah.". Originally published: London: Andre Deutsch, 2015.
The Holocaust is an attempt to explain the inexplicable - the systematic murder of millions of Europe's Jews by the Nazis and their collaborators during the Second World War.
It includes facsimile documents that have been carefully selected to remind readers that the horrifying statistics represent not numbers but people.
This illustrated volume describes Jewish life before the spread of Nazism in Europe and Nazi ideologies.
The author discusses the mass murder, the death camps such as Auschwitz, the perpetrators, the witnesses, the escapees, the refugee havens and the 10,000 Kindertransport youngsters who were given safe haven in Britain.
The Holocaust records stories of resistance and acts of heroism, and tells us of the survivors and those who risked their lives to save the Jews.
Finally, it describes the liberation of the camps, the resettlement of the Jews and how the events are remembered now.
Published in partnership with the Memorial de la Shoah, which contains the biggest collection of documents on the subject in Europe and is dedicated to preserving the memory of the Holocaust and educating future generations.
BIC:
1D Europe, 3JJH c 1939 to c 1945 (including WW2), HBJD European history, HBLW 20th century history: c 1900 to c 2000, HBTZ1 The Holocaust, HBWQ Second World War