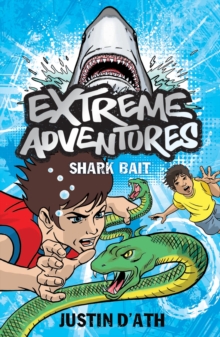 Shark bait
1408126451 / 9781408126455
Originally published: Australia: Penguin, 2006.
Sam Fox is on holiday onthe Great Barrier Reef when a freak wave sweeps him and a stranger called Michi out into the open sea.
Trapped in deep water with no hopeof making it back to shore, Sam and Michi have to think on their feet if they want to make it home alive!
As nightfalls and dangerous predators start moving in, can theyoutsmart nature? Or will they end up as shark bait? Packedwith deadly sea creatures, dangerous bird smugglers and the incrediblepower of the ocean itself, this is an adrenaline-fuelled,suspense-filled read.
BIC:
YFC Adventure stories (Children's / Teenage), YFR Sporting stories (Children's / Teenage)